It was a weird reddish blonde color and fried like KFC. I had some serious split ends, my hair was brittle and dry, and there wasn't much I could do with it besides let it hang like a fine frizzy mess or put it in pigtails:
It was just too long, and had no shape, and I was sick of it. So I cut it off.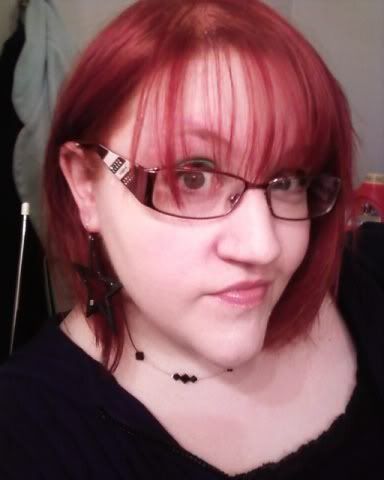 It's really short and choppy. The pictures don't quite do the color justice. And, by god, it feels HEALTHY for the first time in forever.
(Ps, check out my sweet new earrings. WIN.)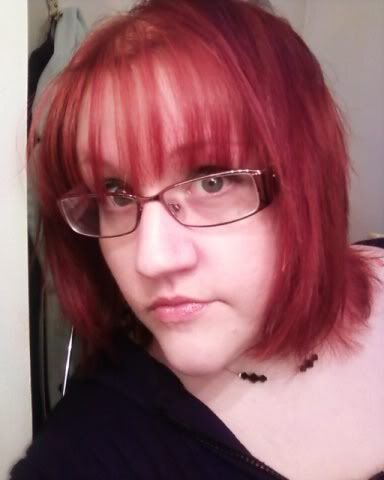 The colorist didn't trust me on the color -- I said I wanted it sorta coppery and orange, and she was like, "NO NO NO, too orange is bad!" And I insisted, no, a little copper and orange is good. Trust me, lady. I have had my hair every shade of red there ever was. And she went with it, and the color was so awesome that people in the salon came over to admire it. Maybe I missed my calling as a hairstylist? It's doing amazing things for my skin, too.
Side view. Lookit that big ol' nose.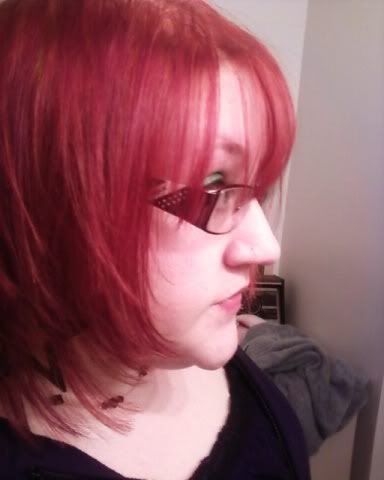 The bangs are a little tricky: I have a cowlick happening from parting my bangs in the same exact spot for, oh, two years. But no matter. Eventually it will fall in line.
I'm glad I finally went to a proper salon and got my hair cut. I've been trimming it myself for about a year and using box dye. I decided to pamper myself a little bit since I never really do that. My clothes have holes in them, I've been wearing the same shoes for a million years, I can afford to spend some money on a good hair cut. Especially since it was looking REALLY stringy and flat and unhealthy. I also got my eyebrows done professionally for the first time ever, they're awesome. (Not that I have a lot of eyebrow to speak of.) I feel great. My head is like 10 pounds lighter (we cut off a good 6 inches) and my hair, like,
moves.
I got my hair chopped off today.